Should we have – would it be good to have – more independent bookshops in the north east? You might expect a 'no' from me. It'd be more competition after all. But, actually it's a resounding 'yes'. Our communities would benefit from these hubs of bookish passion, and as fellow independents, we already work together and share ideas with bookshops further afield.
Independent retail sets a village, town or city neighbourhood apart; imbues it with character. We're all far too familiar with identikit high streets up and down the country – Gap next to Vodafone, Starbucks next to Boots, HMV and Waterstones – that there's no way of telling whether you're in Norwich, Nantwich or Newcastle. Independent retailers, however, run locally, not globally, can reflect who we are and where we are. Whether they sell coffee and cake, craft beer or clothes, independents brim with personality and passion that you just don't get in a chain store. Most of us, as customers, want something that feels a bit more like home, not a high street that's replicated in every town centre from Carlisle to Cornwall.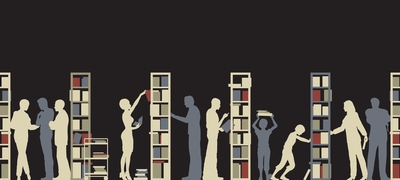 Sadly, there are fewer than 1,000 independent bookshops in the UK now, with many good ones forced out of business. Overheads are crippling, and they've been the collateral damage in a price war between massive online retailers, supermarkets and high street chains. But hopefully, those that remain are excellent: not only providing greater choice for readers but networks integral for cultural and social ecology in their neighbourhoods.
We work hard to put on as many events in our village, Corbridge, as possible – to bring the community out to enjoy writing. This year, highlights include Booker short-listed Australian novelist Tim Winton at The Rat Inn in Anick and best-selling crime writer Ann Cleeves at Spurellis Ice Cream parlour in Amble; and we've championed debut writers who've gone on to national success such as Hannah Kent, Emma Healey and Jessie Burton. We're looking to deliver a really mixed calendar of events – we've got the Stig from BBC's Top Gear on Monday 13th October at The Angel pub in Corbridge. It's a mix that caters for a variety of tastes, and brings people together, provokes conversation and debate, and puts our village on the literary map. For us, there's not much that's better than looking out at a room full of rapt readers.
The best-selling titles in independent bookshops differ greatly from the mass market Top Ten you'll find in Tesco. Ours is an eclectic mix, that reflects our customers' broad interests – Robert Crumb's Heroes of Blues, Jazz and Country, New York Cult Recipes & Comptoir Libinais rather than the new Jamie Oliver, the quirky Tequila Mockingbird, or the beautiful little Penguin volume Pocket Atlas of Remote Islands; while in fiction we have the locally set Murder Wall and current Book of the Month, The Coincidence Authority.
Many independent bookshops are also keen to get the next generation passionate about reading. In Forum Kids! for example, we're now doing story-time three times a week – Tuesdays, Fridays and Saturdays at 10.30 am.
It might seem obvious, but independent bookshops about books. Whilst it doesn't really matter how a 'story' is delivered – on a tablet or a phone, it's the words that count – we also happen to be passionate about the physical book. And despite its predicted demise, the book is very much holding its own. In our shops we're strictly analogue and champion – not only gorgeously designed books – but indie magazines like Ernest and Boneshaker.
This Saturday – 11th October – there's a celebration of the physical book, and the bricks and mortar shops that sell them. Books Are My Bag is a national campaign in support of high street bookshops, with events going on up and down the country. At Forum Books we'll be having a party with home made cake and lots of local authors popping by including Mari Hannah, Dan Smith, Carolyn Jess-Cooke, Harry Pearson, Steve Chambers, Rebecca Muddiman, David Almond, Max Adams and Hazel Osmond.  It'd be lovely to see you if you're near Corbridge – but if not, please support your local independent wherever you are.
Helen Stanton is owner-manager of Forum Books and Forum Kids! bookshops in Corbridge. You can follow her on Twitter. 
Do you agree that our high streets need more independents? If so, how do you think that should be done? Tell us in the comments section below – by clicking on the little plus sign.
(Views expressed on our website and in our magazines and emails are not necessarily endorsed by Northern Correspondent.)