The Abbas family have suffered bombings and beatings, yet seem powerless to prevent their return to Pakistan. Words by Tom Keighley. Photograph by Chris Auld
Are you definitely coming," 20-year-old Muhammad Abbas anxiously emails me, an hour or so before we're due to meet. I slowly crawl up Middlesbrough's Carlow Street – squinting out the window for Muhammad's door number – weaving the car between discarded furniture, strewn Union Jack bunting and cocky young kids playing chicken in the road.
Inside the small terraced house, things are much more orderly. On the sofa is Muhammad's father, Faisal, and his mother Saima. It's a borrowed home and not one the three look comfortable in.
Faisal, who is approaching 50, earned good money in Lahore as a regional finance director for the mobile phone business of Chinese conglomerate Huawei. His wife was a school teacher. Like other Shia Muslim professionals their position in society made them a target for the Pakistani Taliban, and that's where this story begins.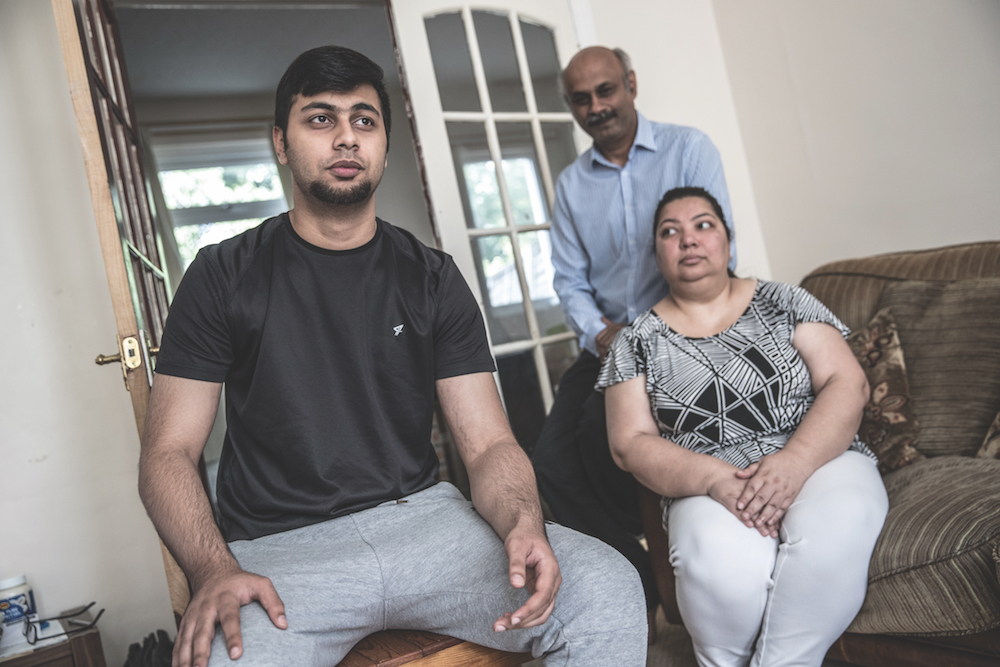 I visit Muhammad and his family just a day after 55 lawyers were killed by a suicide bombing in Pakistan. The striking pictures of men fleeing – all dressed in smart black suits – made the News at 10 the previous night.
Those pictures are preying on Faisal's mind as he begins to explain the problems professionals of minority religions have back in his home country. "I was beaten, had stones thrown at my house and threatened numerous times," he says. "At the time it was happening to working people all across Pakistan – from Karachi to Lahore. Bank managers, solicitors, doctors – they were targeted. If they think it's necessary, they will kill you."
Two bombing attempts at the family home – one which exploded without injury and another diffused – signalled an escalation in the situation. Faisal's irrepressible smile and warm nature couldn't be more at odds with this frightening picture he's beginning to paint. "There is fear among people," he adds. "Most of them of them leave the country as soon as they have the opportunity."
Fearing for his family's safety, Faisal tried applications to the local police and courts for protection. Each time his desperate pleas became bogged down in the morass of Pakistani bureaucracy.
In 2013 Faisal brought his family to the UK to seek asylum. They ended up in Middlesbrough – noted for having the highest ratio of asylum seekers – via an initial holding hostel in Wakefield.
Some months ago their application was refused. A solicitor's delay in getting necessary documents to the Home Office is what Faisal and Muhammad believe to be the root of their problems. Letters from the Taliban threatening the family, along with medical reports of Faisal's injuries following his beatings, were submitted as part of the application but disregarded by a court.
Muhammad hands me a terse letter from a court which sets out the decision. Notably, it makes incorrect reference to the Taliban threat in Afghanistan, not Pakistan. The first sign of anger flickers across Faisal's face as he explains: "I submitted my medical report of the attack, but the Home Office said it didn't prove it was the Taliban. What am I supposed to do, have video footage?"
Muhammad chips in: "They kept saying that we're not high profile enough to be targets."
The family's other relatives have sought asylum in places like Canada and Australia. "They've been accepted there for a reason. Those countries understand we Shias have a problem in Pakistan," says Faisal.
Against this dire backdrop Muhammad has admirably thrown himself into studies. He recently earned top grades in a BTEC in Software Engineering, a ticket to a place on a computing degree course, and a coveted scholarship via the Sanctuary Scholarship Award. Those next life stages have now crumbled around him following the Home Office decision. Agonisingly he's also clocked up hours volunteering for cancer charity Marie Curie in Middlesbrough, and even added one of the government's Big Society initiatives, the National Citizen Service, to his CV.
"Don't you think I deserve it?" he says, exhausted. "I didn't come here to claim benefits. I've studied, earned a scholarship and contributed to society. What stone have I left unturned? Now, the situation is that I'm not allowed to work and I'm not allowed to claim benefits. So how am I supposed to eat?"
To plug the gap, the family are surviving solely on the paltry support of charities, and the odd do-gooder in the local community. They'd be homeless but for the generosity of an inter-faith group who have let them stay in the house, temporarily.
Since coming to the UK, Faisal has volunteered at the Citizens Advice Bureau. The experience brought some of the injustice of his family's situation into sharp focus. For instance, Muhammad applied for Section 4 support. The Home Office response was to question why his father could not support him. Faisal explains: "I saw this response, then, at the Citizens Advice I saw people aged 16 and 18 who were applying for benefits and they weren't asked this question. There are two sets of standards." He adds: "I was seeing asylum seekers who couldn't speak any English, and they were being accepted first time. It was hard for me to watch. Does the UK need these people? Maybe."
Seeking some kinship, the family started attending a Shia mosque in Middlesbrough, but they found no welcome. Faisal describes resentment and the feeling among mosque-goers their family was out to steal others' benefits. Gradually they retreated and now only visit the place on important occasions such as Eid.
Muhammad sinks into the sofa as he thinks about what lies ahead. He says: "If I go to Pakistan now, I'm not going to have anything there. All my friends are here. A lot of my friends and classmates can't really understand that I'm an asylum seeker. They think I must've been born here because I like going to the match and I've got the same ambitions as them."
Muhammad's younger sister Maimnat emerges gingerly from another room. She's studying photography, fine art and psychology A-Levels, and has ambitions to teach fine art as a career. "I'm trying to be practical about it," she says soberly. I mention Mima and excitedly Maimnat says she's been taking life drawing classes there. "She has had to give up for the time being," chimes Faisal. "They charge £3 and we haven't got the money right now."
It's been a mixed experienced for the siblings over the last three years.  "I was trying to make friends," explains Muhammad. "I didn't know what 'chavs' were. I walked up to this guy in the park and the next thing I knew I was in a confrontation. He threw beer at me and was swearing and shouting in my face." A visiting social worker heard this story and encouraged Muhammad to go to the police – an alien concept Faisal tells me, as to go to the police in Pakistan can be asking for trouble.
A TV showing Pakistani news and ads has been buzzing away in the background of our conversation. Suddenly it fizzes to life. "This is the country they want us to go back to!" exclaims Muhammad, as he gestures towards the news item that's popped up. It's mobile phone footage of a street fight. A group of men, two wielding machetes, dance around and swipe at each other. Some grapple in the foreground. The news banner at the bottom of the screen flashes "royal rumble".
Over in the UK, life and death is decided at the keyboard of a desktop computer. Asylum applications are processed by the Border Agency, a part of the Home Office. For the last nine years, asylum seekers are assigned one member of Border Agency staff. Though the applicant never meets or learns the name of their "case owner", that person wields the power to make life and death decisions about their situation.
Even a cursory look through the Home Office's own guidelines on assessing asylum applications makes the Abbas' ordeal even more frustrating. The instruction reads: "The level of proof needed to establish the material facts is a relatively low one – a reasonable degree of likelihood – and must be borne in mind throughout the process." That reasonable degree of likelihood is defined as "a long way" below the criminal standard of "beyond reasonable doubt" and less than the civil standard of "the balance of probabilities". In fact, the document acknowledges the difficulties many asylum seekers, like the Abbas family, will have in compiling dossiers of evidence outside of their home country.
Each piece of correspondence the Abbas family received has been from signed by a different caseworker. Customer service couldn't be further from their minds, but the cold language of the letters Muhammad shows me is frightening. It's the ultimate "computer says no" experience. Muhammad tells me that three months after the family's first face-to-face encounter with the Border Agency, known as the "screening interview", his father was confronted by an immigration enforcement worker who shouted at him and told him to go back to his home country.
In response to the Abbas' case, a Home Office spokesman told me: "The United Kingdom has a proud history of offering sanctuary to those who genuinely need our protection.
"All claims for asylum are considered on their individual merits, and where people establish a genuine need of protection from persecution, refuge will be granted.
"However, if people do not need our protection they are expected to leave the UK voluntarily, and we provide support and assistance to help them return to their home country."
The Home Office also maintains the Abbas family's asylum claim has been upheld consistently in the courts by an independent immigration judge.
"It was my mistake to come here and look for a solution to my problem," says Faisal.
"You should die in your own country, honourably. You shouldn't have to go through this system and be disgraced, treated the way we've been treated. It's very painful for us to be detained, being killed honourably is much easier."
It's a haunting note on which to leave the family. They've been told to expect plane tickets to Pakistan this month.
Muhammad and his family are now back in Lahore. He may be home, though it feels anything but. His bedroom overlooks the front yard and gate which was badly burnt in one of the bombing attempts. In an email Muhammad describes it as a painful reminder of the looming danger. So far nothing has happened, at least nothing more than a botched burglary attempt by a man posing as an broadband internet installer. Faisal has begun hunting for a job.
[…]
Read more in The Northern Correspondent #9