Dear Newcastle,
I have been meaning to write you a love letter for some time. Every time I almost stop to think about you… how you have been misrepresented, how you suck up the strife and never seem to fall to the wounding criticism… I see another feature of your ongoing story of growth and excitement. I swell with the same pride as everyone else around here. And that gritty resolve that one day you will be seen for what you really are.
I have been struggling with the narrative of the "desolate north": Newcastle bundled with Manchester, Sheffield, Liverpool as post-industrial and under-performing. But you are not. You are a cultured, boutique and glorious port city with a longer heritage and, these days, a focal university, a boom in tech, manufacturing and bio-med and a hub for legal, medical, finance, education.
Everybody expects you to be an Ugly Sister (or a Fat Slag?) – noisy, slobbish, low on self-respect… But you are Cinderella – petite, self-conscious, determined to put wrongs right. You aren't the attention-seeker of your teenage Scottish cousin.
Your overall lifestyle trumps anything London can offer. Home Counties or metropolitan south east living, anyone? We Geordies might scoff and snigger that anyone might call that a life – as we choose heart-stopping moorland walks or a coastal stroll to blow away weekend cobwebs.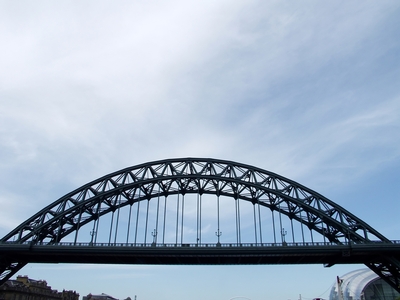 A recent Guardian article tried to fit you up as Detroit. But you are more Seattle – cultured with music, home to the third largest business software firm in the world and gateway to the great outdoors (and Great North Run). Newcastle's nearest English sibling is Bristol. Theatres, markets, fashion, shopping, students, Georgian architecture… The general buzz on the waterside… I checked on the vital statistics that match Newcastle's DNA to Bristol. There is a very good fit – except Bristol is a tad more earnest with a media focus on BBC wildlife, where Newcastle and the north east majors on cheeky/witty humourists – Ross Noble or Sarah Millican.
If there is one criticism, it would be that you have let others weave a story that they have your interests at heart in telling others you are a sick patient. Labour politicians have thought to plead for attention on your weaknesses and underplay your strengths. They have wanted to look useful, but maybe overplayed "anorexia" when you looked a bit lean.
It's totally unfair to think of you as work-shy. Like Cinderella, you are a proper grafter. Well-educated and just used to getting stuck in. That's probably why, wherever I travel, there are Geordie cousins who are involved in running the place, engaged in civic or professional bodies to turn the world into a better place.
It's kind of automatic for our family to want to do that. Aware. Conscious. Witness to struggle. And passionate for self-improvement.
It must be hard to feel "left on the shelf" or "ever the bridesmaid, never the bride". As others corrupt their natural attributes, you have clung to yours. And those innate values are already shining out as gems in today's digital and connected world.
Don't feel wounded. Or a need to be brash. Just keep being your best.  I love you, Newcastle, and I know that your day will come.
Charlie Hoult runs Newcastle's "media village", Hoults Yard and chairman of Dynamo, an industry-led initiative for promoting IT growth in the region which this week holds its Dynamites Awards. You can follow him on Twitter.
Do you share Charlie's love for Newcastle? Or do you take a different view of the city? Tell us in the comments section below – by clicking on the little plus sign.
(Views expressed on our website and in our magazines and emails are not necessarily endorsed by Northern Correspondent.)