Chris Stokel Walker visits the town that is home to 982 asylum seekers and discovers the fine line between refugee status and homelessness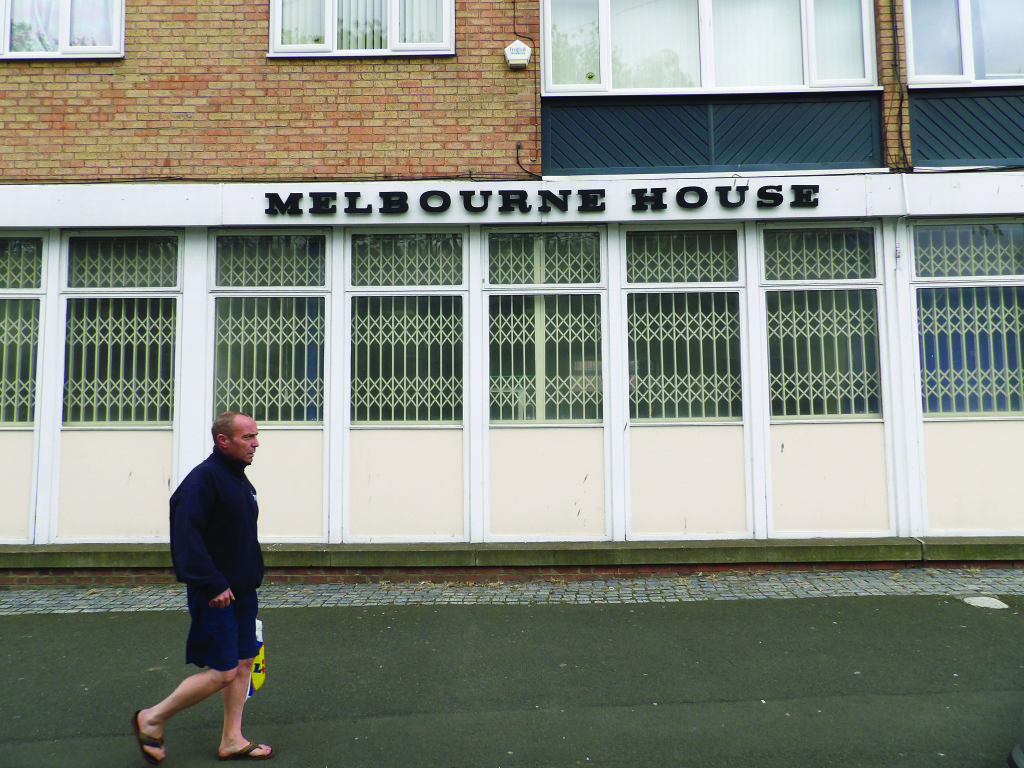 Walk up to an immigration official in Melbourne, Australia, and you'll face short shrift, probing questions about your validity to be in the country, and a test of your ability to remain in Australia – the famed questionnaire that some in the United Kingdom want to adopt for our own immigration policy.
Walk up to the tatty looking Melbourne House, with its chipped paint, 1970s squat block signage, and battered windows, and you'll get a different reception entirely. This unassuming building tucked underneath the A19 in Middlesbrough – placed between a Sikh temple, a nightclub that's taken over the town's old Pavilion Theatre, and a light and airy branch of Lidl – is home to Open Door North East, a charity that ensures refugees and asylum seekers entering the country are treated as "us", rather than "them".
That's evidenced by the smiling man with olive skin and a light smattering of black stubble, dressed in a red and blue Adidas tracksuit, who stretches out his hand and asks "How are you, my friend?"
This is Osman, who had gone for a walk around Melbourne House, before returning back to the building for the rest of his day at Open Door North East. Making small talk, he opens the front door of the building and a wave of sound spills out under the A19. It's Tuesday afternoon, and that means one thing for the 30 or more people sat in rows at desks in this former police station and library.
"It's English class, yes, yes." Middlesbrough might not seem like the mecca of multiculturalism, but you'd be surprised: 982 asylum seekers live in the town, Osman included. Last year Middlesbrough hit the headlines for that statistic: the numbers breached government-mandated levels (no local authority should have to house more than a single asylum seeker for every 200 residents). Notoriety followed: Middlesbrough became England's asylum seeking capital.
The local council's report was slightly more sedate than the screaming headlines. "Middlesbrough has seen an increase in the number of asylum seekers placed in the town through government funded contracts," it said.
The reasons are relatively simple, explains Andy Colclough, who helps house those passing through Open Door North East. "There's a lot of asylum seekers and refugees in the north east, full stop," he says. "That's partly down to the cost of housing. There's also a large social landlord in Middlesbrough who has a contract with the Home Office," he adds. Combined, that means many asylum seekers who arrive in Dover or Heathrow end up on Teesside.
"There's a big difference and a lot of confusion between what's an economic migrant and what's an asylum seeker," says Paul Catterall, the chief executive officer of the charity. We are a signatory to the UN Convention that means that we are a country open and prepared to provide sanctuary for people who have a well-founded fear of persecution in their home country."
Britain is unusual in that we distinguish between refugees (those who have been granted asylum by the government) and asylum seekers (newly-arrived in the country and requesting help).
"What we forget here is that we have a history of welcoming people who have suffered persecution," says Catterall. "People forget that. As a nation we have welcomed people for hundreds of years, who flee persecution."
The first step for someone who has just arrived in the UK is to declare they are seeking asylum. At that point, they will be dispersed by the Home Office across the country. "Years ago, people would arrive in London and the south east and there was such a pressure on the local authorities there, the government started dispersing to the regions. They're dispersing to where you've got access to cheaper housing."
At that point, people – people with harrowing stories of survival and flight – become numbers in the system. A claim for asylum is registered: evidence is taken and weighed up. The decision as to whether to grant someone the right to claim asylum in the UK – to turn them from an asylum seeker into a refugee – is a big one.
"If the Home Office decide, Sorry no, they get no support whatsoever," says Colclough. "They get no recourse to public funding, they don't get a bed in a house from the Home Office, they don't get a little card that gets them food in Sainsbury's. They get nothing. They're not allowed to work, obviously, so the government can say, Sorry, no, but if for whatever reason they can't send them back to their country, whether it's for political or religious reasons or whatever it is, they kind of just become street homeless. In Middlesbrough we're the only ones that house the destitute asylum seekers. People who have failed the system completely."
Open Door aims to offer a compassionate centre that can help refugees and asylum seekers firm up the ground beneath their feet at a time when it can seem like it's all slipping away. Five days a week they offer English classes, job seminars, food parcels or a place to meet likeminded people and staff with open ears and hearts. (As I speak to Catterall, one man sits on the complimentary computers and watches football highlights; another loads and unloads the washing machine that whirrs in one corner of the building.) The charity connects 'clients' with housing providers. Those who can pay rent subsidise those with nothing. All told, the charity has helped hundreds of individuals on arrival in the country.
Nearly 11 years ago, Soroush Sadeghzadeh went through the same process of asylum claims and dispersal. A Christian in Iran, Sadeghzadeh fled his home country due to religious persecution. After graduating from university at home, he started working in the computer industry, but couldn't set up his own company. Though he never explains what exactly drove him to flee Iran, Sadeghzadeh, now 31, gives some indication about how he was treated at home when talking about his first feelings upon arriving in the UK: "I could go to bed knowing no one was looking for me because of my faith; because I believed in Jesus."
Immediately upon arrival Sadeghzadeh was dispersed to Teesside. "We were dispersed to an area that was predominately white working class British, and I think it was just me and my wife and another family of asylum seekers there that had a different skin colour," he explains. "I remember on the bus to Middlesbrough from this area that we were living in, I was speaking on the phone to my mum and two minutes later I realised everyone was looking at me. It was because I was speaking a different language, and obviously I had a different skin colour."
At first he found it difficult to adapt to his new surroundings – and neighbours found it difficult to adapt to him and his family's presence. "When I first came here I had mixed feelings," he admits. "I was happy to escape Iran, but I experienced some racial harassment. But those people do not represent the whole of the north east."
They didn't then – when Sadeghzadeh and his wife moved closer to Middlesbrough itself, the people were more welcoming – and certainly don't now. "The place has changed," he explains. "Not just in Teesside – in the whole north east, it's changed. If you walk around Middlesbrough you'll probably hear 10-15 languages being spoken."
Catterall, who himself moved to Middlesbrough from Birmingham in the early 1990s, agrees. "When I moved here we'd just started a family and our eldest daughter had just started school. I was a bit shocked that we'd moved from multicultural Birmingham to a school in Middlesbrough that at the time had one black face. I'm thinking, 'Oh my goodness, I want my kids to grow up in an environment where they understand and live alongside other cultures.' I remember saying to my wife: 'What have we done? We left Birmingham to come here?'"
Now it's different. You're as likely to come across a Kurd as a Teessider in the Lidl next to Melbourne House, and areas of the town have a thriving multicultural feel, with specialist food stores, cafes and restaurants.
"You can walk around Middlesbrough, and you wouldn't be able to count the amount of nations on your hands, ethnically," says Colclough. "If I walk around Middlesbrough, people think I'm the most popular person in the world, because I walk every 10 metres and someone will be shaking my hand. It's bizarre."
"We've been enriched," says Catterall. "I think that's a good thing. I'm a white male country boy, but I personally think this is a better place for the diversity that we have now."
Sadeghzadeh didn't come immediately to Open Door North East when he arrived in the country, but he still had the same questions all asylum seekers have. "How do things work? Where would I find help? The bureaucracy here is pretty much alien to us asylum seekers; it's a totally different culture," he says. "Your solicitor writes to you and letters are hard to understand: there's a point of action, but you don't act on it because it's a letter – if they really need me, they'll come."
One such letter was bittersweet: Sadeghzadeh's request for asylum had been granted. He could stay. "And then we had another letter saying you've got to leave your house within 21 days. I was thinking, 'Okay, how does it work here?' Back home you go and ask your friends if anyone is renting a house, or you go to an agency that speaks your language. Here I didn't know how things worked. We were looking for some support and help, and Open Door was one of the places we were going to."
Sadeghzadeh picked his way through the system, went to university again, and started working. Five years ago he joined Open Door, splitting his time between the destitute whose claims for asylum have been turned down but can't or won't go home, and those who have become refugees. "I can identify with them and they can identify with me; we were both in the same boat, pretty much," he says. "And hopefully I can help them integrate into the culture here, and then bringing the flavour of their own culture into this area and integrating. They need to not think they are outsiders, but they can and they are more than welcome to come and contribute, and this is what they should do – this is their new home."
The work is rewarding, says Sadeghzadeh. "One person came in: he was destitute, he was sleeping in a room with the lights on just because of the fear he had. We tried to help him with that; we gave him shelter. We gave him support in every way we could. We thought it'd be good to put him in the English class, so we did that, gave him priority. A year later, we saw him on a weekly basis, but a year later he came with a letter in his hand, thanking me and Paul for the support we had given him – in English. Just saying: 'Thank you, you've been great in supporting me. I have my own support now, and I have to move on.' He was dispersed to another part of the country.
"It was so great to see that broken person coming through, being able to understand and speak the language spoken here, and then being able to have the support he should have in place. Hopefully from there he will move on. This is so rewarding to see."
That journey isn't abnormal in this part of the world.
"People come to this country with a tremendous amount of baggage," says Colclough. "In terms of what they've gone through, and what they've seen. These people are escaping horrendous things. It's very rare that I work with someone who just wants a better life, and see it as an easy ticket."
Open Door's position is an important one: they take people at the end of one journey – away from their homelands, from persecution and fear – and the start of another one, in a strange and foreign land, where the welcome can be as brutal as bureaucratic, and warmth can sometimes be left wanting. But the charity's time in these peoples lives, as they flee from fear, prop themselves up, dust themselves off and embark on a new life, is fleeting.
"This community comes from cultures that don't have a benefits system so they're not used to handouts," explains Catterall. One client of the charity is so keen to work he spends £50 a week travelling the 20-odd miles down the A19 to Northallerton to work in an ice cream factory – for minimum wage. "That's his work ethic," Catterall says. "That's the way he's been brought up. There's no free lunch, no benefits, where he comes from."
And every day the factory worker is earning, he gets a step closer to a new life, to independence, and to being able to stand on his own feet, rather than with the support of the charity. That's how it's meant to work.
"People will often move on," Catterall says. "If they've spent six months here and they haven't found work, they'll say 'Oh I'm going to go and try Leeds.' We had one guy last year who said 'I'm going to go and try Glasgow. I heard there's a factory recruiting up there.'
After all, for a man whose heart has been torn out from his homeland, to be kicked out from an airport arrivals lounge and cast out under the A19 on the other side of the world to be rebuilt, what trouble is a further 200 miles to feel real freedom?
Read the full version in The Northern Correspondent #4