Whichever way Scotland votes next week, Edinburgh will get new powers. England has waited patiently while Scotland, Wales and Northern Ireland have been given ever more devolution. Now is the time to redress the balance in England – and begin by giving more power to our cities.
There is widespread recognition that sustained and balanced economic growth will only come if there is devolution of key economic powers and functions to the drivers of a modern economy: the cities.
There is no good reason why, 10 years from now, English cities such as Newcastle should not be driving forward UK growth, rivalling the best metro-regions in Germany, France, Spain and the US, and at the same time narrowing the productivity gap with London.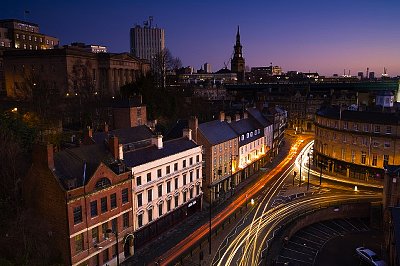 England's great cities were founded upon the initiatives of industrial and municipal leaders and civic institutions justifiably proud of their capacity to deliver excellent infrastructure and efficient public services.
Regional cities were achieving impressive growth prior to the financial crisis, and there is some evidence that the growth in cities such as Edinburgh, Cardiff and Glasgow has been the result of devolution there.
England's great cities can return to a leading role in rebalancing our national economy. And many of these cities are becoming increasingly strident in their calls for new powers.
Our plan for a decade of devolution is a practical roadmap that politicians can rally round. It rests on three key planks.
First, the Chancellor, George Osborne, must come good on his promise to make northern infrastructure investment the centrepiece of his autumn statement. Northern leaders have overcome past divisions to bring forward a coherent plan for investment which, at £15bn, is still way short of the amount we are investing in London. But this now needs urgent appraisal, investment and action.
Following this, we need a decade of genuine devolution, starting with the big cities, then reaching out elsewhere as and when new combined authorities (including county-district arrangements) can be formed. Those ready to act now should not be held back by those with less appetite or capacity for change.
This decentralisation decade must start with key economic development powers over skills and employment support, transport, housing, innovation and inward investment, but it should also provide for much greater local control over health and social care, education, policing and crime.
This will involve making sure that the proceeds of growth and the savings made through tackling social issues stay in the areas in which they are made – the devolution of business rates and other local taxes, underpinned by a more transparent national safety net, and greater freedom for councils to borrow to invest must underpin any decentralisation of responsibilities.
Our IPPR North plan identifies 40 different functions of government which need to be devolved and covers powers and budgets held in 13 different Whitehall departments. Our report argues that a new wave of combined authorities should be established, including 'county combined authorities' in two-tier areas, with all combined authorities setting out clear plans for partnership-working and enhanced democratic accountability.
Finally, as we look over the horizon, English local government deserves the same kind of constitutional status afforded to Scottish and Welsh governments to really engender culture change at the centre.
By 2020 we need to see a proper constitutional settlement for England giving local government the kind of autonomy afforded in almost every other mature European democracy.
And the quid pro quo? Although there is growing support for city power, this must be matched by local, and particularly combined, authorities doing more to open up their governance and accountability. If most city leaders outside London reject the directly-elected mayor model, then it is beholden on them to come up with better alternatives. The status quo is not an option.
Ed Cox is Director of IPPR North
Do you agree with giving greater powers to the cities in our region? Tell us in the comments section below – by clicking on the little plus sign.
(Views expressed on our website and in our magazines and emails are not necessarily endorsed by Northern Correspondent.)